ORDER POWER WAGON PARTS ONLINE
---
Dave Cirillo,
Jobrated.com
Dave Cirillo on eBay
New and used parts, trade/buy/sell trucks from 1939 to 1980, 1/2 ton to 1-1/2 ton, 4x4 and 6x6, some 2wd too. "If anyone needs help with Dodges I will help if I can" - Dave Cirillo. Dave has 20 years of experience working on Power Wagons. [email protected]

Civilian Dodge Power Wagon Parts
RIC TUDOR
Walworth Wisconsin
Phone home (262) 275-0169 or cell (815) 382-2011
Precision Power Wagons
Dan Mininger
Power Wagon running board brackets, floor pans, kick panels, running boards, bed trim, refurbished original parts, windshield regulator rebuilding, speedometer rebuilding service, for your Dodge Power Wagon.
---
Highland Automotive
Greg Coffin
Email [email protected]
Phone 303-530-4150
Highland Automotive offers a variety of power brake, power steering and electric wiper conversion kits for Dodge WDX-WM300 Power Wagons, Dodge Military WC, M37, M601, and Dodge Civilian Trucks from 1939-1947

Click on picture for a larger image
Power Brake kit for Dodge WDX-WM300 Power Wagon, WC, M601 - $900, plus shipping
Power Brake Kit for Dodge M37 - $950, plus shipping
Electric wiper kit for Dodge WDX-WM300 Power Wagon, Civilian 1939-1947 - $970 (shipping included)
Bracket and hardware for Saginaw power steering gear, Dodge WDX-WM300 Power Wagon - $400, plus shipping
Bracket and hardware for Saginaw power steering pump. Dodge 230 and 251 Flathead Six - $350, plus shipping
---
Power Wagons West
Steven Fowler
[email protected]
Eric's Classic Dodge Truck Parts
Eric's Classic Dodge Truck Parts on eBay
Vintage Power Wagons
302 S. 7th St.
Fairfield, Iowa 52556
phone (641)472-4665
fax (641)472-4824
toll free order line (888) 695-0578
website: http://www.vintagepowerwagons.com
e-mail: [email protected]
Lots of parts for all styles of Power Wagons, and military trucks. Repro rubber weather strip, repro & NOS parts and accessories. Manuals, books, ads. Restorations. Sponsor of annual Power Wagon rally in June.
Midwest Military
16075 Hwy 13 S.
Prior Lake, MN 55372
Email [email protected] Voice 952-440-8778 Fax 952-440-8776
Midwest Military on eBay
Midwest Military offers a wide variety of NOS and reproduction Dodge parts for your WWII WC series, early civilian power wagons and M37's. We have a full sheetmetal fabrication facility. We offer only the best quality metal products in the market. Check out our website for photos of the parts and a listing of some of the parts available. If you need custom made metal parts, contact us for details.
John Geidl [email protected]
John's Parts on eBay
I have a large collection of 2&4 wheel drive parts for civilian Power Wagon, Town Wagon, Town Panel and Power Giant trucks. I have some NOS parts but most parts are used. I have reproduced Town Wagon, Town Panel name plates, DODGE for below rear doors and DODGE for Power Wagon radiator shell. I also rebuild door latches for Power Giant and TW/TP's. I have been collecting and working on Dodge trucks for 22 years. I may have the parts you need. Your satisfaction is always guaranteed. John
Matt Tisdale - Power Wagon bed sides, rear fenders, crossmembers, and kick panels.
Matt Tisdale
Tisdale Coachworks 
200 North Main St. 
Winslow Indiana 47598
Phone 812-453-7625
e-mail [email protected]
John Smith - Phone 303-763-7309 Denver Colorado John's Parts on eBay
Other eBay Sellers that have Dodge parts:
AMS Obsolete (formally Mitchell's) NOS, Used, Aftermarket & Reproduction MOPAR parts, 1914-present
EBAY Store - Website - Parts Search

Power Wagon Hood Plates - Cast Bronze reproductions of the originals. Many times stronger than original zinc parts, these are triple chrome plated and bolt up to original mounts. Aircraft hardware is included. Your complete satisfaction is guaranteed.
Full set of 5 plates is $750.00

Price includes hardware and free shipping to a North America address.

Checks should be sent to:
Matt Griffoul
17535 Uvas Road
Morgan Hill, CA 95037
Email [email protected]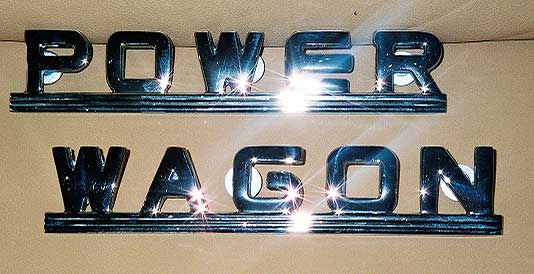 A.B. Linn, 7022 Jones Road, Salisbury, NC 28147 704-637-9076 - M37 Parts
A. G. Backeast - Data Plates PO BOX 40011 Grand Junction Colorado tel 860-877-4440
Adirondack Dodge Parts & Surplus, 803 State St., Box 99, Prospect, NY 13435, 315-896-2572
Alretta Truck Parts - Still stocks some hard to find hard parts for Power Wagons
Arizona Parts, 320 E Pebble Beach, Tempe, AZ , 85282-5343, 602-966-6683
Army Surplus Parts - Some M37 and Power Wagon Parts
Antelope Valley Equipment & Truck Parts, M-37 and other military truck parts, 44532 Trevor Ave., Lancaster, CA 93534, Ph 661-945-6788, Fax 661-942-6887, email:

[email protected]

AutoGlassics - Call 541-579-0372 or email [email protected] for a custom coupon code for a discount
Bob Harmon - Parts for Warn hubs Phone 865-579-4009
Braden Winch Co., P.O. Box 547, Broken Arrow, OK, 918-251-8511
Braden winch parts, Longhorn Trailer & Body Co. Texas 800-772-0855
Brad's NOS Parts, PO Box 2988, West Columbia, S.C. 29171, PH# 803-755-0066, FAX# 803-755-9722 http://www.bradsnosparts.com or eBay
Brake Booster Rebuild - Power Brake X-Change, Inc., 336 Lamont Place, Pittsburgh, PA, 15232, (412) 441-5729 or (800) 580-5729
Brookline Machine - PTOs, keyed drive & PTO shafts. Many locations
Borgeson, in Torrington, Connecticut, sells all sorts of high quality steering linkage hardware.
Brassworks - Handcrafted reproduction radiators for Dodge Brothers, classic cars & custom Street Rods. Made in the U.S.A. 1.805.239.2501
Brownell's - source for screws(unusual sizes) and tools, 515-623-5401
Bruce Horkey Wood and Parts - Replacement parts for Dodge Ford and Chevy-GMC pickups Phone: 507-831-5625
Camcraft - Camshafts for the 318 Poly engine
Classic Enterprises Dodge tailgates with embossed DODGE
Clesters - Weatherstripping Phone 704-637-9979 1-800-457-8223
Egge Machine - "Your Source for Obsolete Engine Parts!" 1900's through the 70's
Daytona Parts - Since 1974, Daytona Parts Company has provided the finest world class carburetor restorations and our line of over 800 new carburetor repair kits for automotive, truck, heavy truck, industrial, agricultural, marine, and small engine applications for the years of 1932 through 1993.
Len Dawsons Deception Pass Motor Parts Mopar Parts in Anacortes, Washington 98221
Distinctive Restoration - Tim Holloway, (802) 989-4106  [email protected]
DCM Classics - Parts for Power Wagons, and Power Giants. Windshield Regulator Handle
Power Wagon Windshield from DCM
Gauge repair - Keven's Gauge Works http://kevensgaugeworks.com/
Hafer's, Box 26067, Salt Lake City, UT 801-487-6474
IMI Performance - IMI 138-001 two bolt high torque gear reduction 9 tooth pinion gear starter replacement for 3 bolt Prestolite cast iron starter with remote solenoid on a 360 with a NP435 transmission
Ivan's Dodge & Jeep Parts - 335 North Wall St. - Meriden, CT 06450 - Phone: (203) 235-9272
Rivets Hanson Rivet company http://www.hansonrivet.com
Helitool - Ugly Truckling - Power Wagon and M37 disc brake conversion kits.

[email protected]

, Phone: (541) 664-8325, 6721 Old Stage Rd., Central Point, OR 97502
Imperial Services - Reproduction and Replacement parts for special interest Mopars
Lancaster County Upholstery, 1655 Manheim Pike, Lancaster, PA 17601 (717) 569-3282 - Headliners for WDX-WM300 Power Wagons
M-SERIES REBUILD LLC
4038 Shankle Rd,
Norwood, N.C. 28128
Phone 704-474-4683
Charles Talbert, Owner

We offer everything from component rebuilding to complete frame up rebuilds / restorations back to original or with our Cummins Diesel, 5-speed upgrade packages. Service options include show quality, daily driver, or workhorse classes, with power steering, power disc brakes, and many other upgrades that are available per your specs. 6, 12, or 24 volt all electronic ignition systems complete with instructions for easy do-it-yourself installation.
Mar-K, 6625 West Wilshire Blvd., Oklahoma City, OK, 73132, 405-721-7945, bed strips, bed wood, angle strips, tailgates and headboards.
Tailgate info
Memphis Equipment Chambersburg, PA, 717-263-4194
Midwest Booster http://midwestbooster.com/ - Midwest Booster - We remanufacture power brake components back to OEM specs using quality American-made parts

1254 Leah Road, Unit D
Morris, IL 60450
Shop Hours: 8-4 M-F
815-942-0550
Toll-Free - 877-966-0550

Mopar Montana - exclusive distributors for EDGY Speed Shop flat and F-heads, intakes, air cleaners, and cams - not to mention some very select speed parts for Dodge Brothers Flathead Fours.

Northwoods Equipment - Northwoods Equipment & Transport
P.O. Box 1946
Monument, Colorado 80132
Phone (719) 488-3814
E-mail:

[email protected]

Pascoreef Micro Restorations LLC- oldcardrebuild.com Carburetor rebuild service. Call Dimitrios at: 727-505-7901
Performance Gear & Axle (601) 796-2026
Phillips Performance, 6733 Silvania Terrace Road, Stanwood, WA. 98292, 360-652-3595 (bus & fax)

[email protected]

Power Giant Parts -

[email protected]

Call Jim (425) 501-0334 Woodinville, WA - 1959 & 1960 Dodge truck parts for sale.
Power River Ordnance Depot Kenet Curtin, 254 W. Nees #204, Fresno, CA, 93711-6829 "Specializing in WWII Military Dodge Truck Parts"
Precision Wiring Service, 4 Leavenworth Road, Eldred, NY 12732, (914) 557-6156, Dodge WDX B! B2 B3 VC-VF Wiring
Quality Power - Generator to alternator conversion brackets
Rapco Parts Co., PO Box 191, Bowie, TX 76203, 817-872-2403
Rhode Island Wiring Service, 567 Liberty Lane, PO Box 434, West Kingston, Rhode Island 02892, 401-789-1955 Wire, supplies and harness repair, custom harness.
Roberts Motor Parts, 17 Prospect St., W. Newbury, MA 01985, 978-363-5881
Auto Parts at RockAuto.com - Auto parts for American & Import Autos Built Since 1945.
Rock Bottom Prices, Superior Selection. ALL THE PARTS YOUR CAR WILL EVER NEED

SAE products - Grease fittings, retaining rings etc.
Sam Winer Motors - Braden Winch Parts
Saturn Surplus, 3298 Rt. 147 North, Millersburg, PA 17061, 717-692-9400 email

[email protected]

M880 parts,73-79 Dodge
Steer Clear - The Complete Solution to Steering Clearance Problems
St. Pierre Mfg. Corp., Worcester, MA, 01606, 508-853-8010, Wire rope (cable), chains, nylon slings and tie downs.
Stockton Wheel can make wheels in any size you want with whatever backspacing you wish. they can even make chrome. 1-800-395-WHEEL.
Sweet Manufacturing - Steering column U-Joints and other steering parts
This Ole Coupe - Windshield Regulators for Dodge Power Wagon Email: [email protected] Phone (717) 808-6612
Transfer case lever rebuild. Contact John Szewcyk

[email protected]

Treadwell Carburetor Company - Carburetor Rebuilding Parts and Kits, 4870 County Highway 14 Treadwell, NY 13846
Call 607-829-8321, Mon-Fri 9 am to 5 pm Eastern Time
Universal Vintage Tire - tires, tubes, and flaps Universal Vintage Tire on eBay
Vic's Dodge Garage - Vic's Dodge Garage is dedicated to providing the most accurate, original, and high quality NOS and reproduction parts for Dodge truck restoration enthusiast, that are available.
Corvallis, OR 97333 | (541) 231-2237
Our Motto is: "We are all in this hobby together"
Vintage Air Air conditioning and heating systems for classic vehicles.
Vintage Wiring - Tel/Fax (207) 465-3431
YnZ's Yesterdays Parts
Wire Harnesses for Antique and Classic Cars
Phone: (909)798-1498
Fax:(909) 335-6237
333 E. Stuart Ave. Unit A
Redlands, CA 92374

Parts Voice - Looking for auto & truck parts? We'll help you find it!
Part Number Search - We have an on-line database of over 35 million parts
Part Description Search - Over 8,000 dealers to assist your locating needs
This is a service that locates parts based on the part number you enter. All makes. You just enter the part number, and it returns the dealer, quantity, phone# and can link you to more dealer info . I have found matches and purchased some parts using this service.