Power Wagon Events Calendar - updated as rallies are scheduled
---
2021 Rallies
---
Texas Power Wagon Reunion - April 22 - 25
The 2021 Texas Power Wagon Reunion is on! It will be April 22-25 at Pandale Crossing River Resort on the Pecos River. The site has primitive camping, RV spots, and rental cabins. And ranch roads for us to explore! Make your reservations as soon as possible at: https://pandalecrossing.com/
2020 Texas Power Wagon Reunion Flyer
---
Vintage Power Wagons Iowa Rally - 2021 (Cancelled)
Due to the unfortunate continuation of the Covid-19 pandemic, and with the health & safety of our customers and the public in mind, we are sad to announce Vintage Power Wagons will not be hosting our Power Wagon Rally this year. In future years, we hope to again be able to hold our beloved annual event. -VPW
Vintage Power Wagons - Rally Information Page
Fairfield, Iowa

---
Tisdale Coachworks Power Wagon Rally -  June 23 - 27
When: June 23-27th 2021
Where: Tisdale Coachworks
200 N. Main Street
Winslow, IN 47598
Tentative agenda: (this is will be finalized in the next week or two, we need an estimated head count for a few of the ideas)
**Wednesday, JUNE 23rd:
*6pm-??- Arrive in Indiana. Settle in at the Hotel or Camp (see the end of this post for hotel and camping arrangements. Also, see end of post for food itinerary.
**Thursday, JUNE 24th:
*11am-4pm- OPEN SHOP, Tisdale Coachworks will be open for tours, demonstrations, and etc.
*6pm-11pm- Live Band- 'Studebaker,' Classic rock with a touch of country, favorites from the 60's, 70's, 80's with a mix of rock, pop, country, and dance classics.
**Friday, June 25th:
*11am-end if day-we have lots of events for this day in the works. Finalizing events as we get a head count. Shop will be open 11am-4pm.
**Saturday, June 26th:
*things in the works
*5pm-6pm- Short Parade around Winslow
*6pm- PORK CHOP DINNER $20 a head (tickets are being pre-sold for this)
**Sunday, June 27th:
*Goodbye, Fair-well, have a safe trip home, and please don't leave anything you brought with you behind.
***FOOD***
The Lions Club, The Lady's Auxiliary of the American Legion, and the Masons Club all of Winslow plan to have Breakfast, lunch, and Dinner available all day the 24th, 25th, and 26th. I can post a menu as we get closer.
'-Pork chop Dinner on Saturday will need to be pre-sold as we have to have 100 tickets sold prior to event.
COUPLE WAYS TO PAY-
Check- Make payable to LUGNUTZ, and mail to the above address.
Paypal- powerwagon555@gmail.com
***Lodging***
**Hotels:
*Holiday Inn- 2000 Hospitality Dr., Jasper, IN 47546 (ph. 812-482-3344)
*Comfort Inn- 1970 Hospitality Dr., Jasper, Indiana (ph. 812-556-2888)
*Days Inn- 272 Bruce Strasse, Jasper, IN 47546 (ph. 812-482-6000)
*Sure Stay- 951 Wersing Rd., Jasper, IN 47546 (ph. 812-482-5555)
*Super 8- 75 Indiana Street, Jasper, IN 47546 (ph. 812-827-2764)
**Camping:
*Free Primitive Camping- these are first come first serve. There are no hook ups or shower houses. There is approximately 20 spots. This is located about 1 block away from the shop And is in walking distance.
*Pike State Forest-
Managed by Ferdinand State Forest 6583 E. SR 264, Ferdinand, IN 47532
Location Address: 5994 E SR 364, Winslow, IN 47598 (ph.812-827-2857)
*************************************************
Stay tuned in as things get finalized.
Ideas we are working to make happen: train ride, tour of Jasper Engines, tour of Ridetech, short poker run,
Rain or Shine this will happen, there are lots of buildings to tour and hang out in if bad weather happens. Fingers crossed for beautiful and cool weather.
---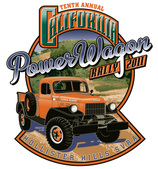 California Power Wagon Rally - June 25 - 27
California Power Wagon Rally - June 25 - 27, Hollister, CA - Hollister Hills State Vehicular Recreation Area.
Come on out and be part of the "Best in the West"
Located in the Gabilan Mountains, just an hour's drive south of San Jose, the California Dodge Power Wagon Rally is a vintage truck meet, held annually at the Hollister Hills SVRA. Rally events include reserved camping with registration, catered dinner on Friday and Saturday evenings, continental breakfast each morning, raffle drawing, silent auction, slide show, truck awards in multiple categories, event t-shirts and complimentary firewood. Pack your camping gear and prepare to surround yourself with timeless vintage trucks, delicious food and excellent company in an ideal setting. Nothing beats a weekend among old and new friends at the Hollister Hills Dodge Power Wagon Rally.
See the link below for registration information, past year's pictures and other info. Don't forget to take a look through the online store for the California Power Wagon Rally memorabilia.
Look forward to seeing you there. If you have any rally questions please send us an email. Register by the end of March and get 5 free raffle tickets!
California Power Wagon Rally Website
---