Automotive fire extinguishers Q&A. Fire Extinguisher Ratings
---
Why should a consumer purchase a fire extinguisher for his or her vehicle?
According the National Fire Protection Association (NFPA), U.S. public fire departments in 2004 responded to an estimated 266,500 highway-type vehicle fires. These fires claimed 520 lives and caused $969 million in direct property damage. NFPA estimates that one (17%) of every six reported fires involves a highway-type vehicle and 13% of all civilian fire deaths. On average, more than 30 highway vehicle fires were reported per hour. More than two-thirds of highway vehicle fires resulted from mechanical or electrical failures or malfunctions.
What does "UL Listed" mean in relation to fire extinguishers?
The reputation of Underwriters' Laboratories, Inc. for testing for the public safety is renowned (see www.ul.com). As a major retailer, it is no doubt known to you and valued by your internal risk managers who assess the products you offer for sale. On a dry chemical extinguisher, the UL® Mark is a positive representation to the consumer that the extinguisher meets or exceeds the requirements of the NFPA 10, ANSI/UL 711 and ANSI/UL 299 safety standards discussed above. For the retailer, it is a valuable independent third-party validation of an extinguisher's compliance with these requirements-requirements that by law must be met in order for the retailer to lawfully sell the extinguisher in most states.
UL does more than allow a manufacturer to display the UL® Mark on a fire extinguisher. As an integral part of this authorization is a continuous process of scrutiny by UL of the manufacturer's manufacturing and quality assurance processes by regular on site in-plant inspections of the manufacturing facilities, QC controls and recordkeeping. All of this adds up to an increased level of comfort to you, the retailer that the fire extinguisher you are selling to the public will perform, and will protect life and property.
What do the ratings on a fire extinguisher mean?
Underwriters Laboratories (UL) classifies and rates fire extinguishers on their ability to put out various types and sizes of fires. Class B:C extinguishers are most appropriate for automotive use.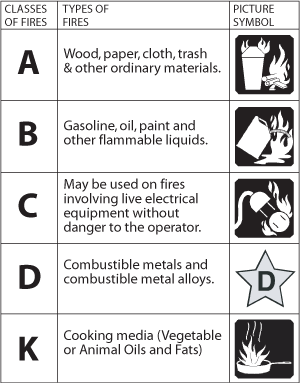 Using a given fire size as a benchmark, UL assigns a numerical rating before the letter classification to denote the size of a given type of fire that an extinguisher can put out. For example, a 10B:C fire extinguisher has twice the firefighting capacity against a flammable liquid and/or electrical fire as a 5B:C extinguisher (Note: "C" class fire extinguishers do not have a numerical rating. The presence of the letter "C" simply indicates that the extinguishing agent is non-conductive.).
What are common causes of a vehicle fire?
Short circuits, leaking fluids and faulty fuel delivery systems are common causes of engine fires. Fires can also start in exhaust manifolds, catalytic converters and even brakes. Fires also often begin in garages where vehicles are stored and worked on and can quickly engulf a vehicle. Flammable liquids are common in garages and one spark from a cigarette or power tool is all that is needed for ignition.
How should a consumer choose a Fire Extinguisher for his or her vehicle?
A fire extinguisher is an often forgotten "must have" for any car or truck owner. Here are some tips consumers should consider in choosing an extinguisher.
Primary considerations:
Effectiveness of the extinguisher in putting out the type and size of fire you might need to extinguish (see Question 9)
Storage space and weight limitations
Acceptable level of damage to your garage or vehicle (surface finishes, electrical system/machinery) and necessary clean-up caused by the fire extinguishing agent
Cost (initial and potential)
Environmental concerns
What size fire extinguisher do I need? See How do I choose a Fire Extinguisher for my truck?
Both the 1lb. and 2.5 lb. sizes are very popular. Generally speaking, if budget and space allow, it is best to purchase more than one unit, and in the largest size.
How is the extinguisher for my car different than the one in my office or home?
Typical home fire extinguishers are inexpensive red dry chemical units.
Office fire extinguishers are mandated by the local fire authority, and are usually large red dry chemical extinguishers of commercial quality.
Where should a consumer install his or her fire extinguisher?
All fire extinguishers should be mounted in the vehicle to prevent rolling, and potentially causing damage to the extinguisher or the interior of the vehicle. Plus, an unsecured fire extinguisher could cause injuries to the occupants of the vehicle. Each vehicle is different so there is not one place to mount your fire extinguisher. However, here are some guidelines for consumers to follow.
The extinguisher should be visible and easy to reach. Mount the bracket on a strong, stable surface, sloping, vertical or horizontal position. The most common places to mount a fire extinguisher are in front of and behind the seat.
Do NOT mount it in an area such as the engine compartment where a fire can make it inaccessible: where the extinguisher will get a build up of grease, oil or dirt where the extinguisher will be exposed to high temperatures.
Caution: Be careful not to use screws anywhere near the gas tank, and be careful not to screw through an exterior body panel. After boring the holes into metal, consumers may want to apply an undercoating to protect against rust, and in the case of a trunk, to prevent water from seeping in.
How do I use my fire extinguisher?
Note: The following instructions are of a general nature, intended to familiarize the user with the basic operating techniques of H3R hand portable extinguishers. All operate by removing the ring (safety) pin and squeezing the handles together. Since extinguishers differ, the extinguisher nameplate must be consulted for specific procedures and starting distances.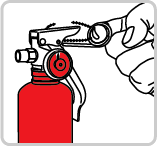 1. HOLD THE EXTINGUISHER UPRIGHT AND PULL THE RING (SAFETY) PIN breaking the plastic seal.


2. STAND BACK FROM THE FIRE (the minimum distance stated on the nameplate) and AIM AT THE BASE OF THE FIRE NEAREST YOU.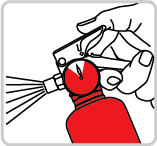 3. Keeping the extinguisher UPRIGHT, SQUEEZE THE HANDLES TOGETHER to discharge and SWEEP FROM SIDE TO SIDE. Move closer as the fire is extinguished but not so close as to scatter the burning material or liquid.


4. When the fire is out, back away while watching for possible re-ignition.

5. Evacuate and ventilate the area immediately after use. The fumes and smoke from any fire may be hazardous and can be deadly.

Note: WHENEVER POSSIBLE, PROTECTIVE CLOTHING AND BREATHING EQUIPMENT SHOULD BE USED WHILE FIGHTING A FIRE.

1. HOLD EXTINGUISHER UPRIGHT AND PULL THE RING (SAFETY) PIN

2. STAND BACK FROM THE FIRE AND AIM AT THE BASE OF THE FIRE NEAREST YOU

3. SQUEEZE HANDLES TOGETHER AND SWEEP THE EXTINGUISHER STREAM SIDE TO SIDE

REMEMBER THIS SIMPLE WORD: PASS

PULL
AIM
SQUEEZE
SWEEP
---