Gillig coaches are well represented in the Power Wagon fleet, with four known so far. Pictured below is John Eickhof's 1952 bus (now owned by Greg) being transported on a W500 flatbed. According to John (who kindly supplied this photo), Gillig made a couple of dozen PW buses in the 1950's, but the Hayward, CA company ceased school bus production in 1985. These coaches were mainly sold in the northwestern US. John's bus was one of a pair owned by the Foresthill, California school district. The other one was sold to a logging company, where the body was cut off to make a flatbed truck. John invites you to the Idaho Trail Ride
Blake spotted this bus in Utah in 2005.
A vintage photo of a Gillig, note the front fender mods.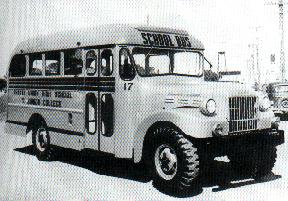 This bus may be a Gillig also, judging by the wing windows. Matt picked it up in 2005. See Eric's pics of this bus at http://imageevent.com/townwagon/1950pwbus
back to Power Wagon buses