drivers door glass same as paassenger.
---
[Follow Ups] [Post Followup] [Dodge Power Wagon Forum]
---
Posted by Chris Case [162.158.255.35] on Monday, November 22, 2021 at 09:34:37 :
In Reply to: Looking for drivers door glass posted by Mark in mass [162.158.63.9] on Sunday, November 21, 2021 at 20:13:18 :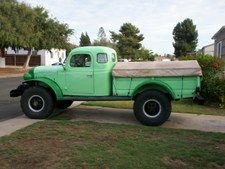 Take the passenger side to a glass shop.
Or is this a case of once again somebody threw out their broken, worn out parts at disassembly, and didn't have the old POS to match up to the new?
I've cut my own glass from junk yard flat windshields. Not common, you need laminated glass from a motormen or step van. Glass cutter, pliers, and some kind of silicone carbide sand/grind. I did a rough job, but good where the edges don't show, like front and back windshields.


---
---