ALL you can get is barely enough
---
[Follow Ups] [Post Followup] [Dodge Power Wagon Forum]
---
Posted by Chris Case [108.162.215.85] on Tuesday, November 09, 2021 at 08:05:01 :
In Reply to: WC 1/2 power steering mock-up - anyone know the angle posted by Don in NH [108.162.237.69] on Monday, November 08, 2021 at 21:43:12 :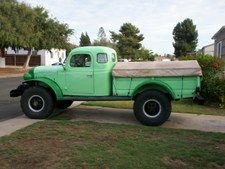 A larger hole helps. I clamp a block on the inside and hole-saw the hole w/ lower center. You also need maximum penetration so you can pull the arm off later.



---
Follow Ups:


---