Condensers
---
[Follow Ups] [Post Followup] [Dodge Power Wagon Forum]
---
Posted by Clint Dixon [172.68.57.56] on Sunday, May 30, 2021 at 13:57:45 :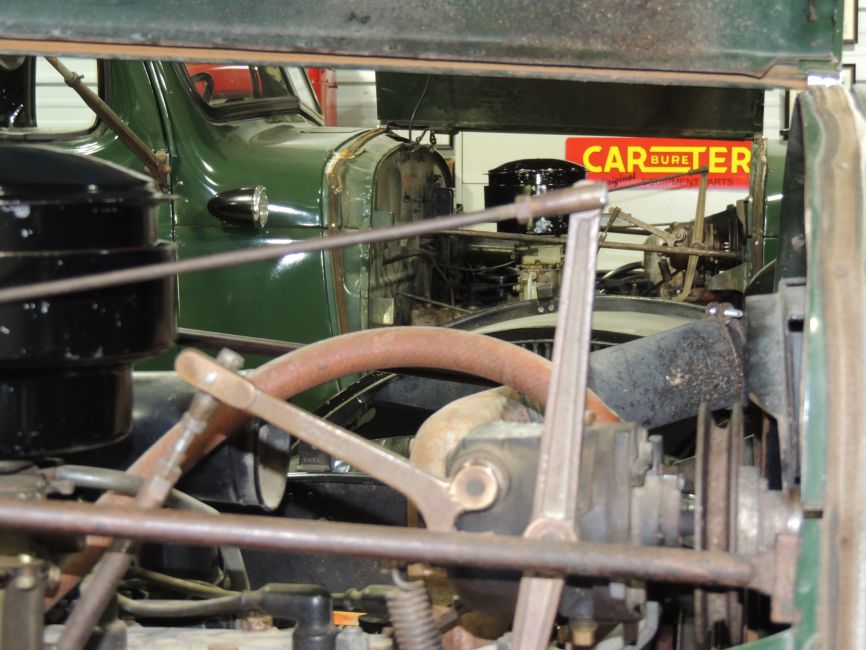 Those of you who have been following this Forum for a while probably remember the trouble I have had with condensers in my 51' B3PW over the years.
To recap, the fist time I had a condenser go bad was back in 2000, right as I was getting ready to drive my new purchase on the six hour trip home. It was early morning and I had the Power-Wagon idling, getting warmed up. It suddenly quit as if someone turned the ignition key to off. No sputtering, no hesitation, just quit - like that. After a few minutes of checking continuity with a test light I determined that the condenser died and after replacing it with a spare I happened to have, I was soon on my way home with my "new" B3PW.
A couple of years later I had driven the truck 100 miles to the VPW Rally. Everything went find until about half way through the Rally. The truck started acting like it was starving for fuel whenever I tied to drive it at any speed over about 20 miles per hour. During the rest of the Rally I rebuilt the carburetor, replaced the fuel pump, and checked a whole bunch of other things that I don't racall now. I finally paid Cheyenne Dave to trailer the truck home for me. A few days later I discovered it was the condenser gone bad again. This was the one I had replaced only a couple of years before and, while at the Rally, it never occurred to me to check. The symptoms this time around were completely different than before.
Yesterday I went to back the truck out of the shop and it would not start. I had just driven it on a 50 mile trip a couple of weeks before and had no problems with it. Yesterday it cranked over just fine but didn't even try to fire. Today, I again got out my test light and started checking for continuity. After about 5 minutes I decided it had to be the condenser again even thought the symptoms this time were completely different than the two previous times one had went bad on me.
The whole idea of loosing another condenser was kind of annoying. When the first one went bad, back in 2000 the morning of my trip home with the truck, it was brand new. I had just installed it a couple of weeks earlier when I changed all the fluids and gave the truck a tuneup in preparation for its maiden voyage with me at the wheel. When the second one went bad at that Rally, it was a relatively new one that I had installed that fateful morning a couple of years before. I have since learned that one cannot trust new condensers, so when this third one gave up on me yesterday, it was annoying to me in that it was a NOS one I installed after the one gave up the chase at that Rally 18 years ago. I now know that new condensers have about a 50/50 chance of actually being operational out of the box, but I had more faith in the NOS one and was hoping that I could get at least 20 good years out of it and here it has been installed for only 18 or 19 years.
So today I go to pull out the old NOS condenser, which now appeared to be old and inoperable, and replace it with another NOS one. I had everything loose and/or out of the way and the only thing left to do was to remove the small screw that mounts the body of the condenser to the plate inside the distributor. Hmmm, the screw was not even finger tight. So I thought I would try something before replacing it. I tightened down the mounting screw, put everything back together, climbed in the driver's seat, and she practically popped off on the first revolution of the engine. Purred like a kitten. The loose screw was apparently not allowing the condenser to be properly grounded.
I still have some new condensers that I carry in both trucks to be used in an emergency, but what is actually in the distributors are NOS. The one in my '51 has been in there for about 19 years. I have no idea how long the one in my '47 has been in there. I have never had one go bad in that truck. All the condensers in my tuneup cabinet in my shop are NOS. They probably will not all get used in my lifetime.
Moral to the story - condensers that are going bad can cause a multitude of symptoms. But, if you are running only NOS, you may never experience the excitement of witnessing the death of one.
Junior
---
---