Broken manifold, why?
---
[Follow Ups] [Post Followup] [Dodge Power Wagon Forum]
---
Posted by Greg Coffin [162.158.62.48] on Friday, January 29, 2021 at 21:54:04 :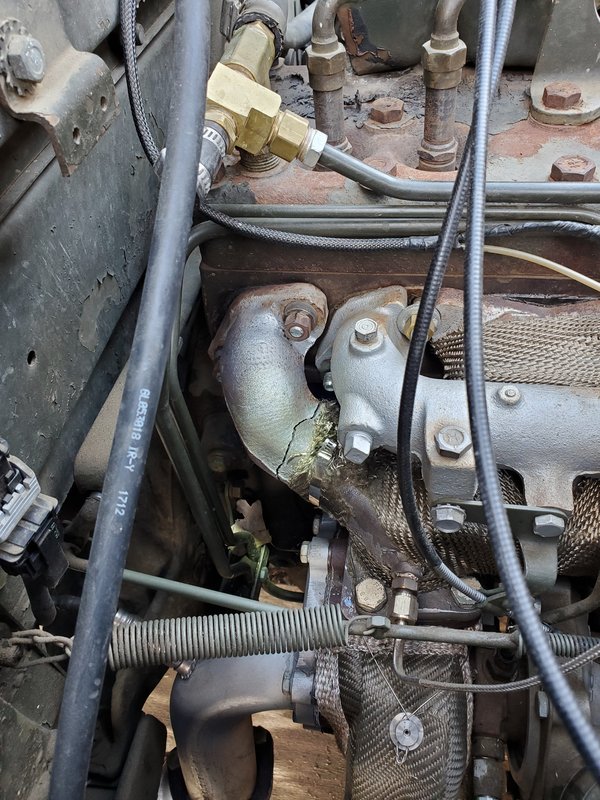 2 years ago my son and I put a turbo on his 1951 M37. We used an exhaust manifold from a later 230 PW engine (I think) and modified the exhaust flange to mount the turbo. We wrapped the exhaust manifold in fiberglass insulation to help keep the heat energy in the exhaust system for the turbo.
It's been running great the whole time, until a couple months ago we noticed an exhaust leak somewhere near the engine. The leak started right after we had 2 big backfires when the engine was shut down. We figured it was a blown exhaust gasket, but when we pulled back the insulation we found this huge crack in the manifold. Big bummer.
My question is why would the manifold crack? We are using new exhaust studs and washers, torqued correctly. Is it possible the backfires could have cracked the casting? I find that hard to believe. The main question is how can we keep this from happening again? We are thinking of skipping the insulation wrap next time.
Your thoughts are greatly appreciated.



---
---