Re: 230 radiator support shim/ insulator
---
[Follow Ups] [Post Followup] [Dodge Power Wagon Forum]
---
Posted by Chris Case [108.162.215.129] on Sunday, January 24, 2021 at 09:07:01 :
In Reply to: 230 radiator support shim/ insulator posted by John S [162.158.79.62] on Saturday, January 23, 2021 at 23:16:43 :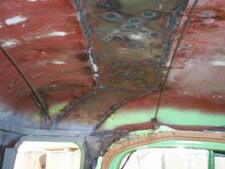 My 1/2 tons had a U bolt, later stuff had two bolts welded to a piece of sheet metal. And they ALL had one broken.
I don't know about any OE rubber, but I make my body mount kits 1/4" taller and put in a slice of tire side wall for the rad. You do not want the cab to touch the frame rails at the floor board opening flange, so the radiator support has to come up too to get the hood to line up.


---
---