blower motor update
---
[Follow Ups] [Post Followup] [Dodge Power Wagon Forum]
---
Posted by Doc Dave [173.245.54.108] on Wednesday, October 28, 2020 at 15:50:19 :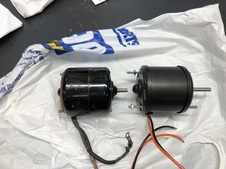 First off, thanks to Vaughn for adding a subsection in the PIF about blower motors.
I ended up going to NAPA with my old OEM one, and they matched it up for me with a
Balkamp 655-1022 for $38.10
It fit exactly, and performs well. All I had to do is cut off the extra length of the small diameter bolts that hold it together, and shorten the shaft a little to match the OEM.



---
---