Wasn't air regs, it was safety stuff.
---
[Follow Ups] [Post Followup] [Dodge Power Wagon Forum]
---
Posted by chriscase [172.69.33.118] on Monday, September 07, 2020 at 13:18:02 :
In Reply to: Re: did any flat fender have the 225 slant 6 posted by Vaughn [172.69.22.233] on Sunday, September 06, 2020 at 12:32:41 :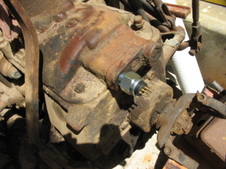 Smog regs didn't kick in for 1 tons until much later, well except for PCV systems. But the flatties already had that.
My guess is the lack of a collapsible steering column. Too much re-engineering for such a limited appeal product. And no room to collapse it in the half-size cab? Plus maybe windshield standards?
They already had a padded dash, bear claw door latches, and the dual master. Leaving only column and windshield?



---
Follow Ups:


---