Re: did any flat fender have the 225 slant 6
---
[Follow Ups] [Post Followup] [Dodge Power Wagon Forum]
---
Posted by Clint Dixon [162.158.74.178] on Saturday, September 05, 2020 at 21:21:34 :
In Reply to: Re: did any flat fender have the 225 slant 6 posted by Vaughn [172.68.132.232] on Saturday, September 05, 2020 at 16:59:18 :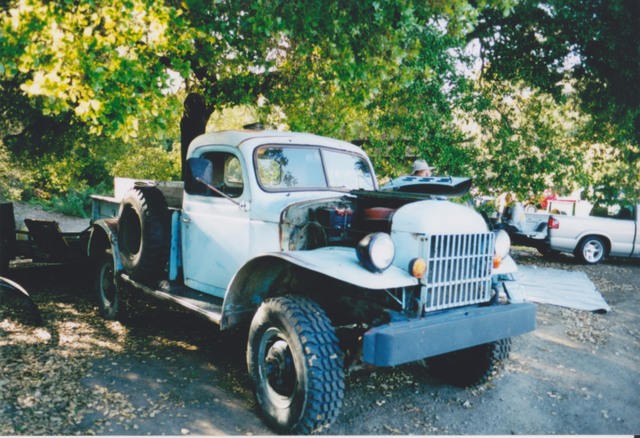 Skepticism is good. You know me. I am all about documentation as far as what date or model number the MoPAR parts lists, Auto-Lite service books, Carter CARbureTER sheets, etc. showed a change took place.
We have been talking about slant six WM300, M601, or X-30 model Power-Wagons starting no later than 1989. They keep popping up. Here are three examples that I am aware of:
David offers up the serial number of X37BC2609012 (Model X-30) of the slant six Power-Wagon he and Sheikh Hamad bin Hamdan Al Nahyan found in the UAE desert that night in 1989. The one pictured above is the one that Keith mentioned showing at the California Rally. And there is this one listed in the T137 Dodge WDX-WM300 Power-Wagon Registry, and that has been discussed in other forums:
https://www.t137.com/registry/display.php?serial=X37BC2S599723
From what I have been told, the details on how the engines were mounted are the same between the trucks. A product of the SEG? That is very possible. A "factory" change or option? Maybe less likely. A coincidence of three different owners installing the very same engine in three different trucks in the same manner? Well, I guess this will be a fun subject to debate until Dave or Jens comes forward with documentation.
On the subject of documentation, I pull my hair out over it sometimes. For instance, I know for a fact that Le Roi Centaur tractors were made in 1948 and 1949 for the agricultural market as models AG-48 and AG-49. They are rare, and they use the same Monroe Auto Equipment Company (the shock absorber company)3-point lift parts that were used on the civilian Power-Wagon and Universal Jeep, but no one has come forward to date with ANY factory literature on them.
Very frustrating.
Junior
---
Follow Ups:


---