1946 Dodge Power Wagon $3,500 [NH]
---
[Follow Ups] [Post Followup] [Dodge Power Wagon Forum]
---
Posted by Power Wagon Classified Ads [172.69.63.218] on Saturday, June 13, 2020 at 07:58:50 :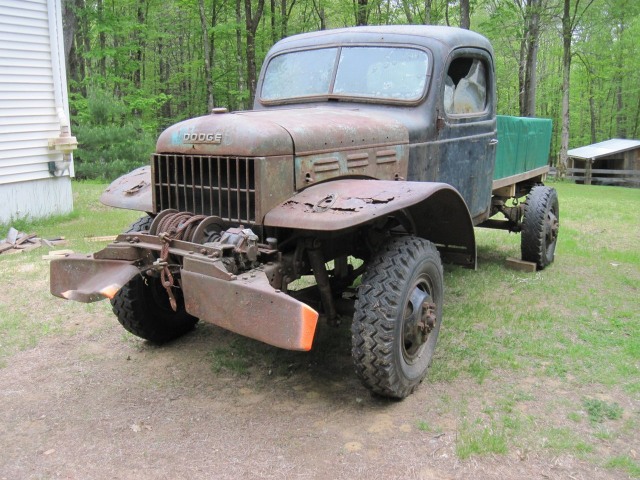 1946 WDX Dodge Power Wagon, and spare parts.
I currently have too many projects, and need to reduce the number.
The cab is a 1939 Plymouth cab according to the information I have, since the original cab was squished by a tree.
The serial number is 83901850.
The frame is rough, and will need some severe work.
Engine is a 6 cylinder flathead, stuck, but looks to be rebuild-able. No visual water jacket cracks.
Has four wheels that hold air, but are not road worthy.
Fenders are really rough, transmission has PTO, but it is facing the rear for the old dump pump that was on it.
There is a fuel tank still installed on the frame, not sure of internal condition.
There are also 2 additional firewall sections of separate "1946" cabs included.
The wood box on the back was created to store parts in and should hold up for transport.
I do not have a title for this truck, bill of sale only.
Located in Concord, NH area.
Some of the removed parts - not looking to sell separately - just parts for the truck:
Two additional radiator assemblies- the one installed and red one had fluid in them
Set of usable front leaf springs
Two steering boxes with steering wheels
Two hoods- red one has emblems
Set of front headlights
A complete set of running board brackets
Two sets of front fender brackets
Two PTO units in different conditions "one is rough, other best for parts
Rear frame cross member
Set of inner engine splash guards
Transmission hump cover
Glove box door- green
Glove box door on additional "red" cab section with warning and instruction plates on it
Two additional complete front ends
Centered rear axle, not sure what it is from- think M37
Set of nice condition Budd rims, which I believe are dually rims but have measure
Please feel free to ask any questions or email if you would like additional photos.
Dan Edwards
Scout556@comcast.net Phone 603-268-2171


---
---