OHH! They go in from the INSIDE !
---
[Follow Ups] [Post Followup] [Dodge Power Wagon Forum]
---
Posted by chriscase [108.162.215.39] on Tuesday, May 19, 2020 at 22:32:47 :
In Reply to: Transmission Gearshift Lever Guide Pin posted by Vaughn [172.68.141.253] on Tuesday, May 19, 2020 at 19:48:37 :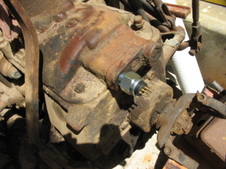 In from the inside, the ball keeps it from falling in, the head keeps it from falling out.
When I got the truck that need it, it had an undersized pin in the hole. Shifting was as sure as stirring soup. So I ground off the weld, drilled for a pin the size of the slot in the ball, used the butt end of the drill bit for a pin, and a tack weld.



---
Follow Ups:


---