Re: Reverse light switch
---
[Follow Ups] [Post Followup] [Dodge Power Wagon Forum]
---
Posted by chriscase [172.69.69.141] on Sunday, May 10, 2020 at 08:52:08 :
In Reply to: Reverse light switch posted by Dave Hibberd [162.158.63.9] on Saturday, May 09, 2020 at 15:23:55 :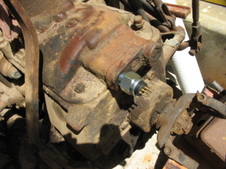 It works on crash boxes too.
After do it to my spare420in the driveway, I did my '53 in chassis.
back up light switch install. NP420. #S290Z in 'BWD' brand, NS11 in SMP.
Torqueflite neutral safety and back up light switch, 1963-1990.
Simple knock out the end plug, thread hole for 3/4x16 thread, and screw switch in.



---
Follow Ups:


---