Re: Smudge pots For Sale
---
[Follow Ups] [Post Followup] [Dodge Power Wagon Forum]
---
Posted by Clint Dixon [172.68.38.31] on Wednesday, February 12, 2020 at 19:08:44 :
In Reply to: Re: Smudge pots For Sale posted by scott56 [108.162.246.80] on Wednesday, February 12, 2020 at 17:53:53 :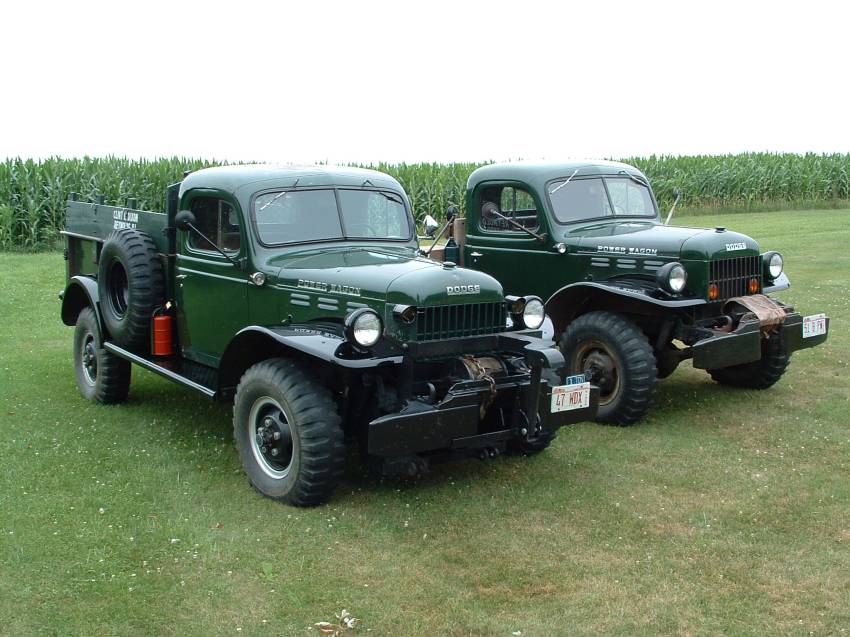 I don't very often here them called "smudge pots", normally just kerosene flares. Here are mine on both of my trucks. The ones on the '51 flatbed are seen mounted to the head board just behind the passenger door handle. The red ones on the '47 are mounted to a bracket that uses existing hardware on the pickup box.
My Grandfather gave me the red ones. I cleaned them up, painted them, and have been have correctly displayed them since. He had them mounted on various trucks up through the 1960's. Each time he brush painted a truck, the flares got a coat of paint in the same color. There was about 5 or 6 layers of different colored paint on them. Only one wick has ever been lit. The wick does not appear to be any shorter than the other two, and there is very little soot under the cap. I think he only lit one to test it one time.
These flares with their holder do take up a lot of room, as Tom described, so they typically got mounted to the side of the pickup box or to the side of the cab ahead of the passenger door.
Junior
---
Follow Ups:


---